I hope last night was great for you!  It was for me--Todd and I had friends over for dinner, except it was Steph and I who made dinner for our husbands.  That was fun!  We enjoyed a dish that we were trying to mock after eating it at
Coop's Place
in the French Quarter in New Orleans when
Sister Grace
went down there last summer.  Well, we
almost
got it, but still not quite.  Guess we'll have to go there again to taste it another time!  
But the mocha ice cream treat I made and chocolate martinis that Steph made were awesome!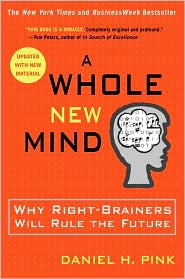 Are you ready?  As I spend the remainder of my time off, I have in hand this book that I am enjoying.  It will be one of many that I read that will spark a creative flair in me to kick off this new year that I believe is going to be amazing!  Calling all right-brainers!  Pick this one up and be inspired.  Step up  to the economic plate!  We just might be deciding the future!
New year--new ways of doing things.  Today I have been working hard on forms, updating my
site
and blog, etc..  Yes, feels good to get organized!  These forms will be filled out by my awesome students who wish to attend workshops and retreats.  Not Wine & Paint Night students though.   Below you will find the downloadable forms for reserving your spot in my workshops. They are also available on my site as you look at the schedule of events and decide on a workshop---ALL in an attempt to serve YOU better in the coming year. Find them in the sidebar her on my blog on the right!  The upcoming workshops include:
New Year New You Painting Retreat - Feb. 6th & 7th download PDF